Max Bully Protein For Pitbulls
Muscle Bully Protein for Pitbulls and Bully Breeds: Product Review
When considering protein for Pitbulls or any other breed for that matter is is important to know just how much protein your dog will require.
Protein supplements for our canine companions should not be taken lightly. We want the best for our furry friends.
Nutritionists normally recommend 25%-30% protein in a Pitbull's diet which is sufficient for typical adult dogs.
However, if your dog is actively involved in any type of activity such as tracking, running, hunting and any other sport then it is advisable to include at least 30%-40% protein in your dog's diet.
A safe and efficient way to do that is to provide your dog with a high quality protein supplement. It is always important that you understand how protein supplements work, their risk factors, their benefits, as well as the proper usage.
Discuss everything with your veterinarian and get a recommendation and all the information first!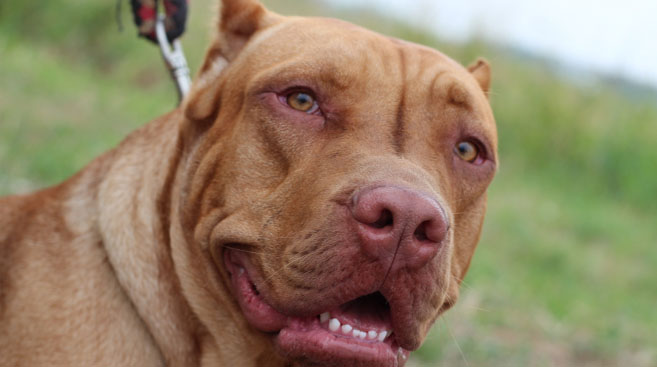 Photo by Thomas Wanhoff
Before you run out and purchase a protein supplement for your pooch, consider the reason as to why you want to add more protein to your dog's diet.
Have you noticed your pup is underweight?
Is he lethargic?
Do you have a nursing momma dog?
Alternatively, are you considering adding a protein supplement to your dog's diet simply because you want him to bulk up, be muscular as well as healthy?
Once you have thought about the reason for wanting to use a protein supplement for dogs, discuss it with the veterinarian. Find out if it is truly the best option for your pooch.
Muscle Bully Protein for Bull Breeds product report:
Now we will discuss one of the protein supplements on the market today, the Muscle Bully Protein for Bull Breeds. We will talk about what it is, why it could be an option, benefits to the brand, as well as the pros and cons based on the reviews provided by the dog owners themselves.
What is Muscle Bully Protein for Pitbulls and Bull Breeds?
Muscle Bully Protein for Bull Breeds is an ultra-premium protein supplement that has been developed to support the dog while building lean muscle as well as assisting him in maintaining overall health.
The Muscle Bully Protein for Bull Breeds is not made with sugar, salt, or any other alternative flavors. Muscle Bully Protein is primarily made of whey protein.
Why should I consider choosing Muscle Bully Protein for Pitbulls and Bull Breeds to supplement my dog's protein intake?
If you are looking to supplement your Pitbull's protein and are looking for a product that offers high quality ingredients, then you may want to consider the Muscle Bully Protein for Bull Breeds brand.
The manufacturers of this brand has done their research and have talked to professionals about what Pitbulls and bully breed dogs require in their daily diets as well as what can be done to help them be happier and healthier.
Dr. Foster and Smith, Licensed veterinarians with over twenty years of experience, have been quoted by saying, "Proteins are necessary for all aspects of growth and development and are very important in structural makeup and the immune system.".
This quote is correct in that proteins play a vital role in canine growth and development. In fact, 23 amino acids make up the proteins.
It is said that canines naturally make 13 of the 23 amino acids already, suggesting that they need to get the other ten amino acids from meat, fruit, vegetables, and possibly protein supplements (with a veterinarian approval).
Another reason that Muscle Bully Protein for Bull Breeds may be a good option for your pooch is that it is made in the United States of America.
Products (especially ingredients and food) that are made overseas and imported are not as regulated nor are they necessarily as safe as products made right here at home.
This is not to suggest that everything made in the United States is safe, nor that everything made overseas is unsafe.
However, it is to help you understand that there is a greater risk for hazardous ingredients or materials to be added to the products when they are imported from outside the country.
Additional helpful information about the Muscle Bully Protein for Pitbulls and Bull Breeds brand:
A free scoop in included in the bag to help owners with accurate feeding
Each package contains a total of 60 servings
Primary ingredient listed on the package is Whey Protein (discuss this ingredient with your veterinarian, know all the information before purchasing)
Many experts in the canine field will recommend a change in diet before they will suggest the owner add a protein supplement to their dog's diet.
For example, choosing a dry dog food that is made with a higher percentage of natural protein sources (beef, chicken, turkey, lamb, etc.) may be a better fist step and more beneficial than adding a supplement.
The dry dog food provided should list a fresh meat source (deboned chicken, beef, lamb, etc.) as the first or second ingredient. That is the best way to know how much weight natural protein hold in the food itself.
If this is the case for your dog and he is still not showing signs of improvement, then you may want to consider high protein treats.
If none of these options seem to be working for your pooch then, discuss this with your veterinarian. Ask them about protein supplements and if they would be beneficial to your dog.
What are some of the benefits to using Muscle Bully Protein for Bull Breeds and whom can it benefit?
Muscle Bully Protein for Bull Breeds is said to improve any dog food by turning it into a high protein dog food.
This brand of protein supplement may help your dog build healthy muscle size and increase muscle definition. Muscle Bully Protein may also benefit your dog's nails, skin, tendons, ligaments and of course his muscles.
Research studies are being done to find out if protein supplements may be linked to reducing tumors and preventing cancer in dogs. This research is still being done and remains unclear. This protein supplement brand is also said to be safe for puppies to consume.
Puppies are still developing and jump starting this natural development is not commonly recommended. However, there are situations where the puppies may require a protein boost. To know if your puppy needs a protein boost or not, discuss your options with the veterinarian first!
Muscle Bully Protein for Bull Breeds may be beneficial to:
Bully breed dogs that are lethargic
Nursing momma bullies
Bully puppies that are underdeveloped
Bullies that are weak
Bully dogs that are sick
Bull Breed dogs that are underweight
Bullies that are small in size
Reasons to use Max Bully Protein for Pitbulls ans Bull Breeds:
Clear results are seen after only two weeks of use
A lethargic, 12-year-old pooch became an energetic and playful pup again
Senior dog able to climb stairs again
Underdeveloped puppy is strong and healthy after use
Coats are shinier
Stool is not as smelly
Muscle tone and definition are noticeable
Safe for dogs with food allergies (may vary per individual dog)
Always start out slowly when offering new food or supplements to your dog. Remember, every pooch is different and may require different nutritional needs. Muscle Bully Protein for Bull Breeds may be a great protein supplement to consider for your pooch.