This Pit Bull's Life Changed On Her First Birthday
Meet Roxy:
Roxy is a beautiful Blue AmStaff (American Staffordshire Terrier), Mix that was brought to the West Los Angeles Shelter when she was still just a pup. Roxy is assumed to have been a stray prior to her arrival to the shelter. She had injuries on her face and near her eyes, that could have been caused by an encounter with another stray or, she may have been used as a bait dog. The only information that her current owner was given is that Roxy had been previously adopted out. Unfortunately, she was returned to the shelter the very same day. Roxy's exact history remains a mystery, but one thing is for sure; she will never have to live that way ever again.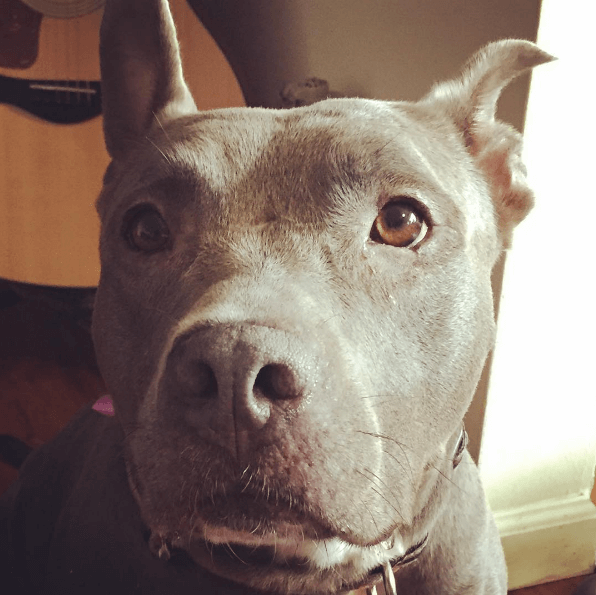 Instagram:@roxypitbull
Finally, Roxy found her Forever Home! Roxy's current owner adopted her around her first birthday. If there were ever any doubt that Roxy had been a stray, it would soon become evident as her current owner discovered she had no training whatsoever. Training and Socialization are essential for any dog, but especially for a Pitbull variety such as the American Staffordshire Terrier. Roxy's owner had never been a dog owner before and taking on an AmStaff Mix that had yet to be trained (and an unclear history) could have quickly sent the red flags flying! Luckily, Roxy's owner decided to enroll both of them into a few programs that would not only train Roxy but, teach her owner as well.
Roxy began working with a dog behavioral specialist, Teka Martin. Teka was not only there to help instill healthy behaviors into Roxy, but she was also there to help her owner learn about dog behaviors and proper training methods. Teka Martin and the K9Toddlers programs have jumpstarted this undeniable bond between Roxy and her partner in crime. With their help, Roxy has learned to enjoy playing with other dogs as well as how to behave while in public and at doggie daycare (which she attends several times per week). Doggie Daycare is a wonderful way to socialize Roxy (and other dogs) as well as a safe place for pups to exercise and play while their owners go to work.
Roxy's owner was gaining confidence in herself as well as in her canine companion. She then enrolled Roxy in Dog Man. This program teaches pooches and their owners about agility and obedience training every Sunday. This incredible program is free for participants at the Los Angeles Coliseum.
For a first-time pooch owner, Roxy's has taken every step to ensure that her AmStaff Mix is a well-mannered, well-rounded dog. If you have never owned, trained, or had any experience with dogs in the past then teaming up with professionals is the best way to provide your new pooch (as well as yourself) with the knowledge and skills that are lacking.
Unfortunately, Roxy became injured with a torn CCL (cranial and caudal cruciate ligaments) and required a TTA (tibial tuberosity advancement) surgery.
What does this mean for Roxy?
Roxy's stifle joint (similar to the human knee) is the joint where her thigh bone (femur), shin bone (tibia), and her kneecap (patella) meet. Her CCL (cranial and caudal cruciate ligaments) are one of the ligament groupings that hold these bones in place. While ligaments are incredibly strong structures, they can be ruptured if the force is strong enough. This is what happened to Roxy. In fact, over 600,000 pooches suffer from this injury and have to have corrective surgery every year in the United States. There are generally two different types of surgery that a Veterinary Surgeon can perform to correct this injury. Tibial Tuberosity Advancement surgery (TTA) or Tibial Plateau Leveling Osteotomy surgery (TPLO). Many Veterinary Surgeons prefer TTA surgery as it is less invasive for the dog while providing similar results as the TPLO surgery. It is very common for patients recovering from TTA surgery to do so much more quickly than patients recovering from TPLO surgery. Roxy is one of the lucky pups that received the TTA surgery and made a quick recovery.
Roxy's owner admits that adopting Roxy has been one of the best decisions of her life. "She has taught me so much about love, patience, understanding, and happiness. Life with a Pitbull is one of the greatest things, I think.". Gone are the days of Roxy living on the streets, likely fighting to survive. Today, she lives a warm, loving and happy life with her partner in crime, her teammate, and her best friend. Roxy's owner explains that Roxy works hard every day to overcome her remaining fear of the wind as well as her timidness. However, her owner insightfully adds, "Her timidness seems to change people's minds about her, though. When we are on the Santa Monica Boardwalk or 3rd Street Promenade, people are incredibly kind to her, and she has changed people's perceptions of what a Pitbull is.".
This inspiring story of a first-time dog owner taking a risk on a timid Pitbull is an excellent example of judging a book by its pages rather than its cover. Many people are far too quick to judge a Pitbull by their genetic makeup, and they usually don't take the time to get to know who the dog is on the inside. Roxy's owner did not know what she was getting herself into. She only knew that Roxy was in need of a home, and she had a home to share. Agreeably, not every Pitbull situation will work out as beautifully as theirs did. However, that should never hold someone back from trying. Pitbulls are strong, courageous, brave, protective, and determined. They will continuously remain loyal to their families, and fight to the death if need be. They are also loving, affectionate, empathetic, playful, patient, and overall fantastic creatures.
Pitbulls are resilient. They will almost always give humans a second chance, regardless of how poorly they were treated in the past. Imagine how many Pitbulls would be saved if we gave them the same respect. Luckily, Roxy's owner gave Roxy a second chance at life. An opportunity to live out the rest of her days as a well-mannered, loving, playful, protective, and courageous dog, partner, and best friend.